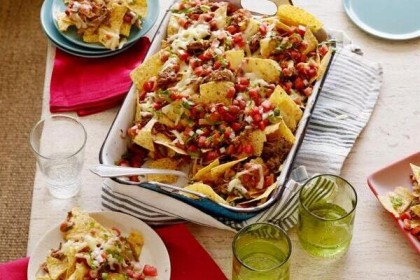 Cowboy Nachos The ultimate party nachos, tortilla chips are layered with braised beef brisket, a bacon bean mixture and a spicy Pico de Gallo. You'll never look at nachos the same way again. This tasty cowboy nachos is super healthy, full of flavor, and ready in just 30 minutes!
Ingredients
3 ½ cups shredded Braised Beef Brisket
1 tablespoon canola oil
½ cup taco sauce
¼ cup pan drippings from Braised Beef Brisket*
1 (9-oz.) package round tortilla chips
1 (8-oz.) block Monterey Jack cheese, shredded
Pico de Gallo
Toppings: guacamole, sour cream, pickled jalapeño pepper slices
Directions
Step 1
Preheat oven to 425°. Cook first 4 ingredients and 1/2 cup water in a medium saucepan, stirring occasionally, over medium-low heat 5 to 7 minutes or until thoroughly heated.
Step 2
Cook brisket in hot oil in a skillet over medium heat, stirring often, 4 minutes or until thoroughly heated. Stir in taco sauce and pan drippings; cook 2 minutes.
Step 3
Divide chips, bean mixture, brisket mixture, cheese, and 1 cup Pico de Gallo among 3 pie plates.
Step 4
Bake at 425° for 5 minutes or until cheese is melted. Serve immediately with remaining Pico de Gallo and desired toppings.
Step 5
*1/4 cup beef broth may be substituted.
Step 6
Pico de Gallo: Stir together 6 plum tomatoes, chopped; 1/2 cup finely chopped sweet onion; 1/4 cup chopped fresh cilantro; 2 Tbsp. fresh lime juice; 1 jalapeño pepper, seeded and minced; 1 garlic clove, minced; and 1/2 tsp. salt. Makes 3 1/2 cups. Hands-on time: 15 min. Total time: 15 min.
Step 7
Note: Nachos can be baked as directed in 2 batches on an aluminum foil-lined baking sheet, topping each batch with 1 cup Pico de Gallo.
Lifestyles Advisor is Health And Lifestyle Magazine. Our main Focus on to Ensure Healthy lifestyle for All Human Being.