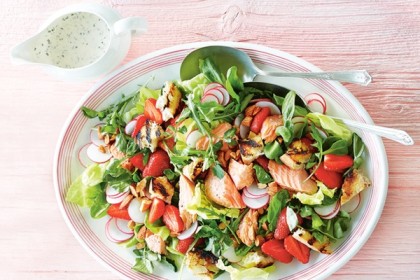 This beautiful Grilled Salmon & Strawberry Salad is delicious and nutritious! Grilled Salmon is combined with fresh strawberries is yummy, tasty and delicious. And easy to make just completely ready in 30 minutes!
Ingredients
2 tablespoons olive oil
1 teaspoon finely grated lemon zest
salt and pepper
1 salmon fillet (about 450 g)
2 thick slices bread
4 cups Boston leaf lettuce
2 cups salad greens (mâche, arugula, and/or watercress)
2 cups baby spinach
2 cups strawberries , hulled and halved
1 cup radishes , thinly sliced
1/4 cup roasted almonds , coarsely chopped
Dressing:
1/2 cup buttermilk
1/4 cup mayonnaise
2 tablespoons chopped fresh parsley
1 tablespoon chopped fresh chives
2 teaspoons Dijon mustard
2 teaspoons lemon juice
salt and pepper
Directions
Preheat grill to medium-high heat; grease grate well. In small bowl, combine oil and lemon zest; season with salt and pepper. Brush half of the oil mixture over salmon; brush remaining oil mixture over both sides of bread.
Place salmon, skin side down, on grill; Close lid and grill salmon until fish flakes when tested with fork, about 10 minutes. Meanwhile, grill bread, turning once, until golden, about 2 minutes. Break up salmon into large pieces; cut bread into 1-inch cubes. Set aside.
Dressing
In jar with lid, combine buttermilk, mayonnaise, parsley, chives, mustard and lemon juice; season with salt and pepper. Close lid tightly and shake to mix w. (Make-ahead: Can be refrigerated for up to 2 days.)ell
On large serving plate, arrange lettuce, greens, spinach, strawberries and radishes. Top with reserved salmon and croutons; garnish with almonds. Drizzle with dressing.
NUTRITIONAL FACTS
PER SERVING (WITH SALAD): about
Calories560, Total fat36 g, saturated fat6 g, Cholesterol80 mg, Sodium465 mg, Total carbohydrate25 g, Fibre5 g, Protein35 g.
Lifestyles Advisor is Health And Lifestyle Magazine. Our main Focus on to Ensure Healthy lifestyle for All Human Being.