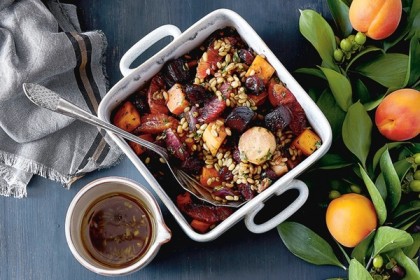 This Freekeh With Roasted Root Vegetables food item is quick, easy, delicious and nutritious. After a grain-salad happy summer, it's time to transition. So, we'll still be combining grains with Freekeh With Roasted Root vegetables and herbs and tossing with dressing, but the vegetables and herbs are changing.
Ingredients
1 cup freekeh
3 cups cubed butternut squash
2 cups cubed sweet potato
1 cup sliced parsnips
2 beets , cubed
1 red onion , cut into cubes
5 tablespoons olive oil , divided
2 tablespoons honey
1 tablespoon cumin seeds
2 cloves garlic , chopped
salt and pepper
2 tablespoons red wine vinegar
1/2 cup dried cranberries
3 blood oranges , cut into segments
1/2 cup chopped fresh parsley
Directions
In large pot of boiling salted water, cook freekeh until tender, about 40 minutes; drain well. Meanwhile, preheat oven to 400°F. Line baking sheet with foil. In large bowl, combine squash, sweet potato, parsnips, beets, red onion, 3 tbsp of the olive oil, honey, cumin seeds and garlic. Season with salt and pepper. Spread vegetable mixture in single layer on baking sheet; bake, turning baking sheet halfway through cooking, 40 to 45 minutes until tender.
In large bowl, combine freekeh, roasted vegetables, remaining oil, vinegar and cranberries; season with salt and pepper. Transfer to serving plate; garnish with orange segments and sprinkle with parsley.
NUTRITIONAL FACTS
Per serving: about:
Calories300, Total fat8 g, saturated fat1 g, Cholesterol0 mg, Sodium250 mg, Total carbohydrate51 g, Fibre8 g, Sugars20 g, Protein6 g, Iron2 mg.
Lifestyles Advisor is Health And Lifestyle Magazine. Our main Focus on to Ensure Healthy lifestyle for All Human Being.