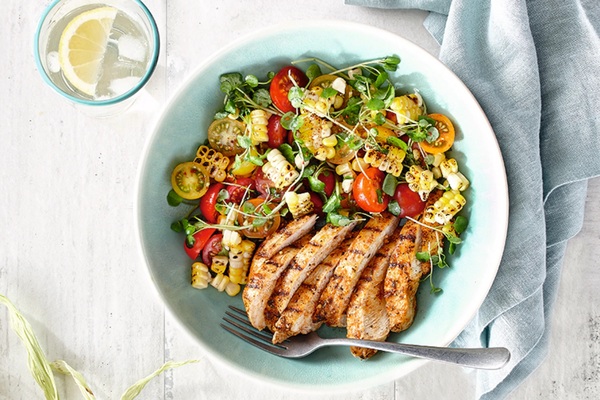 This Grilled Chicken With Corn & Tomato Salad is loaded with fresh summer vegetables. Grilled, crispy-skinned chicken thighs paired with a vibrant corn and tomato salad—this Grilled Chicken With Corn & Tomato Salad is the complete package of summer flavor. 
Ingredients
Cooking spray
4 (6-oz.) bone-in chicken thighs
2 ½ teaspoons kosher salt, divided
¾ teaspoon pepper, divided
3 tablespoons minced shallot
3 tablespoons lemon juice
2 teaspoons Dijon mustard
2 teaspoons honey
5 tablespoons olive oil
3 cups fresh corn kernels (from 4 ears)
2 cups halved multicolored cherry tomatoes
2 ounces (4 cups) baby spinach
½ cup thinly sliced scallions
¼ cup thinly sliced basil
Directions
Step 1
Heat a grill pan over medium-high heat. Coat with cooking spray. Sprinkle chicken with 1 teaspoon salt and 1/2 teaspoon pepper. Add chicken, skin side down, to pan; grill until skin is crispy and browned, 5 to 6 minutes. Turn and grill until a thermometer registers 165°F, 6 to 7 minutes.
Step 2
Meanwhile, in a large bowl, whisk together remaining 11/2 teaspoons salt, 1/4 teaspoon pepper, shallot, juice, mustard, and honey in a bowl. Slowly drizzle in oil, whisking constantly. Add corn, tomatoes, spinach, scallions, and basil. Toss to coat. Serve salad with chicken.
NUTRITIONAL FACTS
Per serving: about:
Calories375, Total fat11 g, saturated fat2 g, Cholesterol120 mg, Sodium750 mg, Total carbohydrate30 g, Fibre4 g, Sugars9 g, Protein39 g, Iron2 mg.
Lifestyles Advisor is Health And Lifestyle Magazine. Our main Focus on to Ensure Healthy lifestyle for All Human Being.