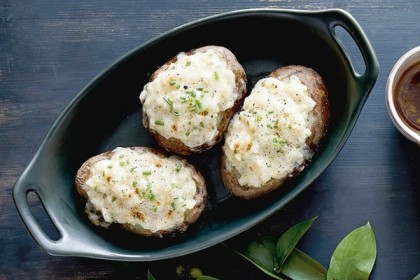 This Baked Potatoes with Mamirolle cream food item is quick, easy, delicious and nutritious weeknight meal the whole family will enjoy. Today, we're going to teach you how to make a totally perfect, classic, best-ever Baked Potatoes with Mamirolle cream.
Ingredients
6 russet potatoes , scrubbed
2 tablespoons salted butter
1 large shallot , chopped
1 sprig fresh thyme
1/4 cup dry white wine
2 cups whipping cream 35%
2 cups shredded Mamirolle cheese or other semi-firm cheese (rind removed)
1/4 cup chopped fresh chives (approx)
salt and pepper
fleur de sel (optional)
Directions
Preheat oven to 400°F. Using fork, prick potatoes all over; wrap in foil. Bake until potatoes are tender (turn occasionally during cooking), 50 to 60 minutes. Transfer to cutting board; let stand until cool enough to handle.
Meanwhile, in small saucepan, melt butter over medium heat; stir in shallot and thyme; cook, stirring occasionally, until shallot is softened, about 2 minutes. Add wine; cook until almost all of the wine has evaporated. Add cream; cook until reduced by one-third, about 10 minutes. Remove from heat; discard thyme. Whisk in cheese and chives until cheese is melted and mixture is smooth. Season with salt and pepper.
Slice off top from each potato. Using small spoon, gently remove flesh, leaving 1⁄2-inch thick border. Transfer flesh to bowl; mash in three- quarters of the Mamirolle cream (or purée in blender). Season with salt and pepper. Spoon back into potato skins. (Make-ahead: Can be covered and refrigerated for up to 8 hours. Reheat in 375°F oven for 20 minutes.)
Place potatoes on baking sheet; drizzle with remaining Mamirolle cream. Broil until golden brown on top, about 3 minutes. Sprinkle with extra chives and fleur de sel (if using).
NUTRITIONAL FACTS
Per serving: about:
Calories550, Total fat38 g, saturated fat24 g, Cholesterol120 mg, Sodium300 mg, Total carbohydrate40 g, Fibre5 g, Sugars6 g, Protein12 g, Iron2 mg.
Lifestyles Advisor is Health And Lifestyle Magazine. Our main Focus on to Ensure Healthy lifestyle for All Human Being.