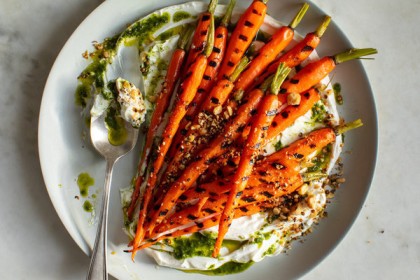 This Grilled Carrots with Yogurt Sauce is yummy tasty and healthy. Serve it as a side or enjoy it for a meal. This Grilled Carrots with Yogurt Sauce is packed with protein and makes for an easy.
Ingredients
1 lb heirloom carrots
1 tablespoon olive oil
salt and pepper
1/2 cup 2% plain Greek yogurt
1/4 cup sour cream
1 1/2 teaspoon Classic Spice Mix (recipe, on right)
Directions
In large pot of boiling salted water, blanch carrots for 5 minutes. Using skimmer, transfer carrots to bowl of ice water. Drain and transfer to paper towel-lined baking sheet. (Make-ahead: Can be covered and refrigerated for up to 8 hours.)
In large, shallow glass dish, mix carrots with oil to coat well; season with salt and pepper.
Preheat grill to medium heat; with lid closed, grill carrots until tender and well marked, turning occasionally, about 5 minutes. Meanwhile, in bowl, combine yogurt, sour cream and Classic Spice Mix. Place carrots on serving dish; serve yogurt sauce on the side.
CLASSIC SPICE MIX
Makes about 1/3 cup.
In small bowl, combine 3 tbsp paprika, 1 tbsp brown sugar, 2 tsp garlic powder, 1 tsp each salt, oregano, onion powder and pepper, 1⁄2 tsp dry mustard and 1⁄4 tsp cayenne pepper; transfer to small airtight jar. (Make-ahead: Can be stored at room temperature for up to 2 months.)
NUTRITIONAL FACTS
PER SERVING (WITH SALAD): about
Calories135, Total fat7 g, Saturated fat2 g, Cholesterol10 mg, Sodium250 mg, Total carbohydrate14 g, Fibre4 g
Lifestyles Advisor is Health And Lifestyle Magazine. Our main Focus on to Ensure Healthy lifestyle for All Human Being.