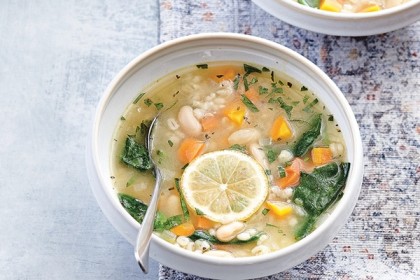 This hearty Lemony bean and barley soup tastes like it has simmered for hours, but actually this Lemony Bean and Barley Soup is quite quick to throw together. Plus this recipe for healthy bean and barley soup freezes beautifully. 
Ingredients
1 tablespoon olive oil
1 onion , finely chopped
2 cloves garlic , minced
3 carrot , peeled and diced
3/4 cups pearl barley
1/2 teaspoon each dried thyme and rosemary
8 cups sodium-reduced vegetable broth
1 540 ml white beans , rinsed and drained
3 cups packed baby spinach
1 teaspoon grated lemon zest
2 tablespoons lemon juice
salt and pepper
2 tablespoons chopped fresh parsley
lemon slices
Directions
In large saucepan, heat oil over medium heat; cook onion and garlic, stirring often, until onion has softened, about 3 minutes. Add carrots, barley, thyme and rosemary; cook, stirring, for 2 minutes. Add broth; bring to boil. Reduce heat; cover and cook until barley is tender, about 30 minutes.
Add beans and spinach; cook until beans are heated through, 3 to 5 minutes. Stir in lemon zest and juice. Season with salt and pepper. (Makeahead: Can be stored in airtight container and refrigerated for up to 3 days or frozen for up to 3 months.) Divide soup among bowls; garnish with parsley and lemon slices.
NUTRITIONAL FACTS
Per serving: about:
Calories250, Total fat3 g, Cholesterol0 mg, Sodium550 mg, Total carbohydrate46 g, Fibre10 g, Sugars6 g, Protein10 g, Iron3.5 mg
Lifestyles Advisor is Health And Lifestyle Magazine. Our main Focus on to Ensure Healthy lifestyle for All Human Being.