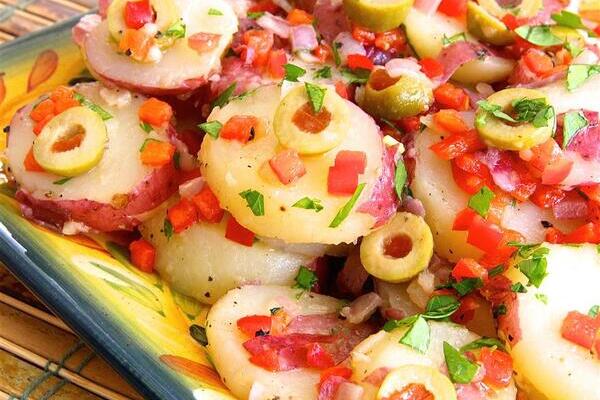 Savory Spanish potato salad is an important dish in Spain's culinary history. Savory Spanish Potato Salad is a great option for a light lunch, side dish. This Spanish style potato salad recipe is super easy.
Ingredients
1 pound small red potatoes
3 tablespoons olive oil
1 tablespoon red wine vinegar
2 garlic cloves, crushed
1 small red bell pepper, chopped
2 tablespoons pimento-stuffed green olives, sliced
1 tablespoon minced shallot
1 tablespoon chopped fresh parsley
salt and ground black pepper to taste
1 lemon, cut into wedges (Optional)
Directions
Step 1
Place potatoes into a pot and cover with salted water; bring to a boil. Reduce heat to medium-low and simmer until tender, about 10 minutes. Drain and cool until easily handled. Slice potatoes about 1/2-inch thick and place in a bowl.
Step 2
Whisk olive oil and vinegar together in a bowl; stir in garlic. Pour dressing over potatoes and lightly toss to coat.
Step 3
Mix red bell pepper, green olives, shallot, parsley, salt, and pepper into potatoes. Serve salad with lemon wedges to squeeze over each serving.

Nutrition Facts
Per Serving:
193 calories; protein 2.9g; carbohydrates 23.5g; fat 11.2g; sodium 193mg. 
Lifestyles Advisor is Health And Lifestyle Magazine. Our main Focus on to Ensure Healthy lifestyle for All Human Being.