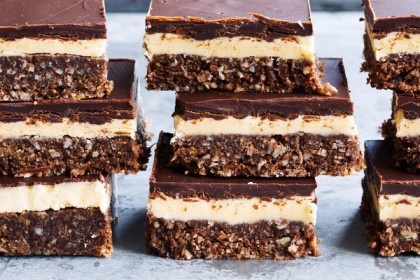 Nanaimo Bars III Recipe – a deliciously tempting treat made with decadent chocolate, honey sweetened graham crackers, crunchy nuts, rich butter and custard powder. Nanaimo Bars III is a no-bake dessert that's a summer must item.
Ingredients
½ cup butter, softened
¼ cup white sugar
5 tablespoons unsweetened cocoa powder
1 egg, beaten
1 ¾ cups graham cracker crumbs
1 cup flaked coconut
½ cup finely chopped almonds (Optional)
½ cup butter, softened
3 tablespoons heavy cream
2 tablespoons custard powder
2 cups confectioners' sugar
4 (1 ounce) squares semisweet baking chocolate
2 teaspoons butter
Directions
Step 1
In the top of a double boiler, combine 1/2 cup butter, white sugar and cocoa powder. Stir occasionally until melted and smooth. Beat in the egg, stirring until thick, 2 to 3 minutes. Remove from heat and mix in the graham cracker crumbs, coconut and almonds (if you like). Press into the bottom of an ungreased 8×8 inch pan.
Step 2
For the middle layer, cream together 1/2 cup butter, heavy cream and custard powder until light and fluffy. Mix in the confectioners' sugar until smooth. Spread over the bottom layer in the pan. Chill to set.
Step 3
While the second layer is chilling, melt the semisweet chocolate and 2 teaspoons butter together in the microwave or over low heat. Spread over the chilled bars. Let the chocolate set before cutting into squares.
Nutrition Facts
Per Serving:
311 calories; protein 2.8g; carbohydrates 34.1g; fat 19.6g; cholesterol 47.3mg; sodium 160.1mg. 
Lifestyles Advisor is Health And Lifestyle Magazine. Our main Focus on to Ensure Healthy lifestyle for All Human Being.