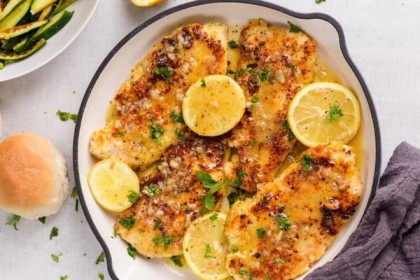 This Lemon Chicken Recipe is so easy to make and completely ready in 30 minutes! The quick garlic and lemon butter sauce enhances the flavor of the chicken and adds so much flavor to the dish. Lemon Chicken- easy and crispy chicken with tangy, sticky and sweet lemon sauce. This lemon chicken recipe is much better than take outs and takes 20 minutes to make.
Ingredients
2 tablespoons sodium-reduced soy sauce
2 tablespoons canola oil , divided
1/2 teaspoon toasted sesame oil
750 g boneless chicken breasts , cubed
1 lemon , peeled and thinly sliced
1/2 cup sodium-reduced chicken broth
3 tablespoons maple syrup
2 tablespoons lemon juice
1 tablespoon granulated sugar
1/2 tablespoon grated fresh ginger
salt
5 tablespoons cornstarch
1/4 cup alI-purpose flour
1/2 teaspoon baking soda
vegetable oil
steamed rice
sesame seeds
chopped green onions
Directions:
In large bowl, mix together soy sauce, 1 tbsp of canola oil and sesame oil; add chicken, turning to coat well. Cover and refrigerate for 15 minutes.
Meanwhile, in saucepan, heat remaining canola oil over medium heat; cook lemon slices for 1 minute. Stir in chicken broth, maple syrup, lemon juice, sugar and ginger. Season with salt to taste; cook for 2 minutes.
In bowl, stir 1 tbsp of the cornstarch into 1 tbsp water; stir into saucepan. Cook, stirring, until sauce is thickened slightly, about 3 minutes. Set aside.
In small bowl, combine remaining corn­starch,­ flour­ and ­baking­ soda. Remove chicken from marinade (discard marinade). Place chicken in sealable container; sprinkle with cornstarch mixture. Cover and shake to coat chicken.
Pour enough vegetable oil into wok or large skillet to come 1 inch up side. Add half of the chicken; cook, stirring often, until golden and cooked through, about 6 minutes. Using slotted spoon, transfer chicken to paper towel-lined plate. Repeat with remaining chicken.
Serve chicken over rice. Top with reserved lemon sauce; sprinkle with sesame seeds and green onions.
NUTRITIONAL FACTS
PER SERVING (WITH SALAD): about
Iron1 mg,Fibre1 g,Sodium515 mg,Sugars9 g,Protein29 g,Calories270,Total fat8 g,Cholesterol90 mg, Saturated fat1 g, Total carbohydrate20 g.
Lifestyles Advisor is Health And Lifestyle Magazine. Our main Focus on to Ensure Healthy lifestyle for All Human Being.