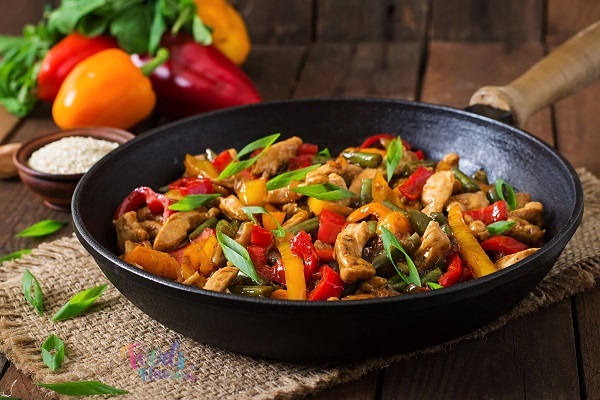 This Turkey Stir-Fry with Summer Veggies recipe is a quick, easy, and healthy, weeknight dinner that your family will love. This Summer Turkey Stir-Fry recipe is ready in under 25 minutes.
Ingredients
450 g turkey cutlets , cut into strips
salt and pepper or cracked pepper
1 tablespoon olive oil
1 small red onion , thinly sliced
1 sweet yellow pepper , cubed
1 zucchini , cut into 1/4-inch thick half-moons
3 tablespoons fresh rosemary leaves
1 tablespoon fresh thyme leaves
1 clove garlic , minced
1 cup cherry tomatoes , halved
shaved Parmesan cheese (optional)
Directions
Season turkey with salt and pepper. In large skillet, heat oil over medium-high heat; cook turkey, stirring, for 4 minutes. Add onion, yellow pepper, zucchini, rosemary and thyme; cook for 4 minutes.
Add garlic and tomatoes; cook until vegetables are tender-crisp and turkey is cooked through, about 2 minutes. Scatter Parmesan over top (if using).
NUTRITIONAL FACTS
Per serving: about:
Iron1 mgFibre1 g, Sodium150 mg, Sugars2 g, Protein20 g, Calories135, Total fat4 g, Cholesterol50 mg, Saturated fat1 g, Total carbohydrate4 g.
Lifestyles Advisor is Health And Lifestyle Magazine. Our main Focus on to Ensure Healthy lifestyle for All Human Being.