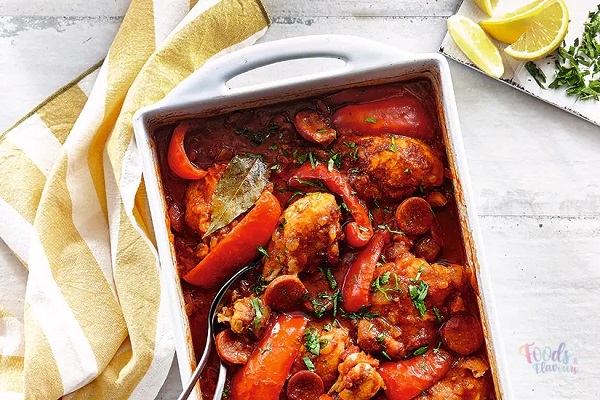 This Piri-Piri Chicken Casserole is easy & healthy chicken recipe is designed to make more than you need for one dinner. This Piri-Piri Chicken Casserole is super healthy, full of flavor, and ready in just few minutes.
Ingredients
1 kg chicken drumsticks , thighs or breasts, halved
salt and pepper
2 tablespoons olive oil , divided
2 tablespoons Piri-Piri Spice Mix (recipe, on right), divided
1/2 cup dry white wine
200 g fresh chorizo sausages , sliced
1 red onion , chopped
6 cloves garlic , peeled
2 sweet red peppers , each cut into 6 wedges
1 398 ml can diced tomatoes
2 sprigs fresh thyme
2 bay leaves
2 tablespoons lemon juice
2 tablespoons chopped fresh parsley
lemon wedges
Directions
Season chicken with salt and pepper. In large skillet, heat half the oil over medium-high heat; cook chicken in 2 batches, turning once, until golden on each side, about 6 minutes. Transfer to 13- x 9-inch baking dish; sprinkle with half the spice mix.
Skim fat from skillet. Stir in wine and bring to boil, scraping up brown bits from bottom of pan using wooden spoon; pour over chicken in prepared baking dish. Set aside.
Wipe out skillet using paper towel; heat remaining oil over medium heat. Cook chorizo, onion and garlic, stirring, until onion is tender, about 4 minutes. Add red peppers; cook for 1 minute. Add tomatoes, thyme, bay leaves and remaining spice mix; bring to boil. Spoon mixture around chicken pieces in prepared baking dish.
Preheat oven to 375°F. Cover dish with foil; bake for 35 minutes. Remove foil; cook until chicken is no longer pink inside and juices run clear when pierced, 15 to 20 minutes. (Make-ahead: Can be covered and refrigerated for up to2 days or frozen for up to 2 months.) Remove thyme sprigs and bay leaves. Drizzle lemon juice over top; sprinkle with parsley. Serve with lemon wedges.
Piri-Piri Spice Mix
In bowl, combine 1⁄4 cup paprika, 2 tbsp each smoked paprika, ground cumin and coriander, 2 tsp each garlic and onion powders, 2 tsp brown sugar, and 1 tsp each salt and pepper. Transfer to airtight jar. Makes about 3⁄4 cup.
NUTRITIONAL FACTS
Per serving: about:
Iron4 mg Fibre4 g, Sodium1, 325 mg, Sugars9 g, Protein65 g, Calories550, Total fat23 g, Cholesterol210 mg, Saturated fat6 g, Total carbohydrate21 g
Lifestyles Advisor is Health And Lifestyle Magazine. Our main Focus on to Ensure Healthy lifestyle for All Human Being.