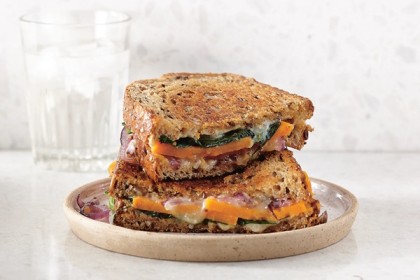 This Spinach & sweet potato grilled cheese is a delicious and easy recipe which takes little time .This delicious Spinach & sweet potato grilled cheese meals make the most comforting weeknight suppers.
Ingredients
3 tablespoons olive oil , divided
1 red onion , halved and thinly sliced
1 sweet potato (about 8 oz), peeled
3 tablespoons grainy mustard
2 teaspoons maple syrup
1/2 teaspoon dried thyme
8 slices multigrain bread
2 cups baby spinach
2 cups shredded Cheddar cheese
Directions
In skillet, heat 1 tbsp of the oil over medium heat; cook onion, stirring occasionally, until tender, 8 to 10 minutes.
Meanwhile slice sweet potato into 1/4-inch thick rounds. Microwave in single layer on microwavable plate until tender, 2 to 3 minutes.
In small bowl, combine mustard, maple syrup and thyme; spread over 4 slices of bread. Top with spinach, sweet potato, onions and cheese. Cap with remaining bread. Brush remaining oil over both sides of sandwiches.
In large skillet, cook sandwiches in two batches over medium heat, turning occasionally, until cheese is melted, about 5 minutes.
NUTRITIONAL FACTS
PER SERVING: about
Iron1 mg, Fibre4 g, Sodium780 mg, Sugars7 g, Protein19 g, Calories475, Total fat33 g, Cholesterol55 mg, Saturated fat13 g, Total carbohydrate26 g.
Lifestyles Advisor is Health And Lifestyle Magazine. Our main Focus on to Ensure Healthy lifestyle for All Human Being.