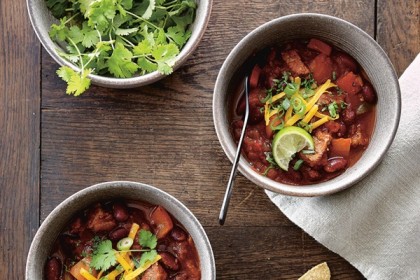 This Chunky Beef & sweet pepper Chili is a healthy, filling stew that the whole family will enjoy. This hearty Chili features Chunky Beef & sweet pepper boneless chuck roast and a medley of traditional chili seasonings.
Ingredients
2 tablespoons vegetable oil
750 g stewing beef , cubed
1 large onion , chopped
2 cloves garlic, minced
2 tablespoons chili powder
1 teaspoon ground cumin
1 teaspoon smoked paprika
1 teaspoon dried oregano
salt and pepper
1 796 ml can chopped tomatoes
1 cup sodium-reduced beef broth
2 sweet yellow peppers and/or red pepper, cubed
1 540 ml can kidney bean , drained and rinsed
shredded Cheddar cheese
sliced fresh jalapeno pepper
fresh cilantro leaves
chopped green onion
lime wedges
Directions
In large, heavy-bottomed saucepan, heat 1 tbsp oil over medium-high heat; cook beef, stirring, until slightly browned, about 5 minutes. Transfer to plate.
Add remaining oil to same saucepan; cook onion, stirring often until softened, about 5 minutes. Add garlic, chili powder, cumin, paprika and oregano; cook, stirring, for 1 minute. Season with salt and pepper. Return beef to saucepan; add tomatoes, crushing with back of spoon and scraping up any browned bits from bottom of pan. Add broth; bring to boil. Reduce heat, cover and simmer for 30 minutes.
Add peppers and beans; cook until beef is tender, about 30 minutes. (Make-ahead: Can be stored in airtight container and frozen for up to 3 months.)Serve chili with Cheddar cheese, jalapeño slices, cilantro, green onions and lime wedges.
NUTRITIONAL FACTS
PER SERVING: about
Iron9 mg, Fibre13 g, Sodium750 mg, Sugars10 g, Protein50 g, Calories515, Total fat17 g, Cholesterol115 mg, Saturated fat4 g, Total carbohydrate40 g.
Lifestyles Advisor is Health And Lifestyle Magazine. Our main Focus on to Ensure Healthy lifestyle for All Human Being.