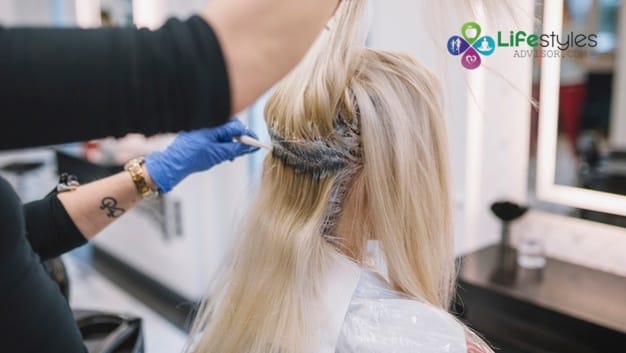 Hair dyeing is trendy as well as fashionable. It can bring an amazing makeover to your whole outlook. People dye their hair for a change. They're sick of the brown-haired, boring old person. They want to add a little spice to their look. It's really hard to be boring looking in this crazy fast world. Everyone is concerned about their look. So it's a valid reason to dye your hair In order to get a change. According to some people,
they would look much better with a different color of hair. They usually apply more natural colors which includes blond, brown, red, or auburn color. Sometimes people try for totally different color and this brings a drastic change to their look. No matter what color you choose you have to know some tips to make your hair dyeing session more fruitful. Let's check out these 10 quick tips for easy and perfect hair dyeing.
1. Check the product carefully
You can't fill your car with the wrong type of petrol because it will seriously damage your vehicle. The same advice is for you while dyeing your hair. It's the most important thing for you to the read the signs and instructions before dyeing your hair.  It's very crucial to check how many chemicals are in the hair dye to avoid damaging your locks. According to beauticians, "The fewer chemicals there are, the better it will be for your hair".
So you should always be sure about the product. Studies say that Strong chemicals like ammonia shock the hair shaft open. As a result, it   makes your hair looking dry and dull after a color.  Use herbal hair colors because it has such useful elements which gently open the shaft of the hair to deposit color. Alongside with this it also maintains the shine and health of your hair."
2. Read the instructions
This may seem like an obvious tip for you. But the surprising fact is, many people don't actually read the instructions. Read the instructions from start to finish.  You have to perform a skin test to ensure that you don't have an allergic reaction to the product. After ensuring about the allergic reactions, start applying it.
3. Practice long-term hair care
 Many people will admit of getting extremely irregular haircuts. Haircuts are extremely vital   healthy, glossy hair. Beauty specialists recommend that getting regular haircuts every six to eight weeks are beneficial for good health. Alongside with this, use good-quality hair brush.
Practicing this long   term hair cares will give shinier looks to your colored hair. You should remember to use a heat-protecting serum or cream before heating your colored hair.
4. Show your locks love
So, you've dyed your hair. Obviously you love the new color of your hair. You have to remember that hair care doesn't stop there. It's mandatory to use products which will nourish and restore moisture of your hair. Otherwise you won't be able to dye your rough looking tangled hair. It would give you a disastrous look.
5. Red Dye is Most Susceptible to Color Loss
You should be careful before dyeing your hair red. Red hair colors tend to fade faster. The reason behind is that they have the largest molecules. The molecule of red dye makes it more difficult to penetrate deeply into the hair. As a result, they dissipate more rapidly. So when you decide for a red dye, be very sure to have your stylist use hair color that maximizes high-definition color. It will result with minimum stress to your hair's cuticle.
6.  Wait 2 Days before you go for Shampoo
After you color your hair, you have to wait at least 48 hours to shampoo. Longer period will bring more perfect dyeing. If you can go three or four days before shampooing, it would be more than perfect. This will give your color plenty of time to set perfectly.
7. Maintain a Healthy Diet
 Your eating habit puts an impact on your hair. The nutrients you get from a healthy diet provide the energy which fuels hair growth and luster. Foods which include iron-rich protein are very important .these foods feed your scalp and hair by building strong keratin.
It provides you the the protein that strengthens hair. As well as it improves texture and stimulates growth. Consume lean meat, fish, low-fat cheeses, egg whites, spinach and soy as much as you can to keep your color-treated hair looking its best. Between meals, you must have snack on fruits, nuts, vegetables and grains to make your dyed hair more gorgeous.
8. Supplements for Color-Treated Hair
Vitamins are essential key to keeping color-treated hair healthy and shiny. Vitamin C keeps blood vessels of the scalp healthy as it supports hair follicles. Alongside with this, Vitamin C also helps your hair to absorb iron from plant proteins. Biotin is a very essential B vitamin which strengthens weak hair and improves its texture. You can easily find Biotin salmon, carrots, egg yolks and sardines. If your diet is lacking, take vitamin supplements as it will help to keep your hair healthy and strong.
9. Use Products with UV protection
No matter whatever the season, the sun's rays can fade hair color. Try to avoid long exposures to the sun. If you are outside on a bright day then care for your color-treated hair by using products which contains UV protectors. Many styling products such as leave-in conditioners and hairsprays have SPF in them. Some UV-protecting products even contain a mix of vitamins so that it can help to restore color-treated hair and prevent it from future damage.
If you know you'll be outside in the sun for an extended period of time then wear a hat or scarf to provide extra protection. This will make your hair color more long lasting.
10. Use Less Heat on Your Hair
Do you know that dyed hair is more susceptible to damage? You should avoid using blow dryers, curling irons or straightening irons as much as possible to protect your hair. You should let your color-treated hair dry naturally. On the contrary, if you are going to use heat, then must apply a heat-protecting styling product.
These are some tips of hair dyeing which will help you to dye your hair more perfectly. These tips will also help you get you more long lasting, shinier hair colour.
Share this with your friends to help improve friendship and be active our Lifestyles advisor page