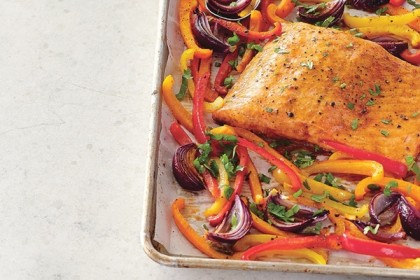 Baked Salmon with chili vinaigrette is a delicious, slightly spicy, citrusy dressing, served over fresh spinach and arugula and So good! This Baked Salmon is very tasty and super healthy food item.
1 salmon fillet (about 450 g)
3 sweet peppers , cut into thin strips
1 red onion , quartered
1/4 cup chopped fresh cilantro
3 tablespoons olive oil
2 tablespoons lime juice
1 tablespoon maple syrup
1 cloves garlic, minced
1 teaspoon chili powder
1/2 teaspoon hot pepper flakes
salt and pepper
Directions
Preheat oven to 425°F. Line baking sheet with parchment paper. Place salmon fillet, skin side down, on prepared baking sheet. Arrange peppers and onion around salmon.
In small bowl, combine olive oil, lime juice, maple syrup, garlic, chili powder and hot pepper flakes. Season with salt and pepper. (Make-ahead: Can be refrigerated for up to 5 days.)
Brush salmon with 2 tsp of the vinaigrette; brush remaining vinaigrette over vegetables, mixing gently to coat. Bake until fish flakes when tested with a fork and vegetables are tender, about 15 minutes. Sprinkle with cilantro.
NUTRITIONAL FACTS
PER SERVING: about
Calories300, Total fat16 g, saturated fat2 g, Cholesterol55 mg, Sodium200 mg, Total carbohydrate12 g, Fibre2 g, Sugars8 g, Protein27 g, Iron1 mg.
Lifestyles Advisor is Health And Lifestyle Magazine. Our main Focus on to Ensure Healthy lifestyle for All Human Being.