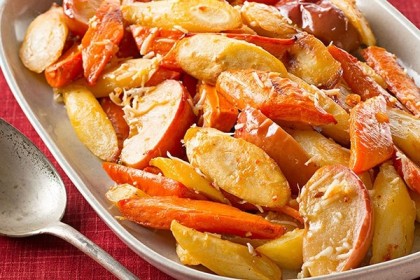 Roasted apples & root Vegetables look nicely colorful but they taste amazing! You just can't get enough of this blend of flavors, colors and textures here. This Roasted apples & root Vegetables is a quick and easy recipe.
3 McIntosh or Lobo apples , cut into 6 wedges each
1 1/4 lb acorn squash , seeded and cut into 1-inch thick slices
2 cups peeled cubed turnips
1 Vidalia onion , cut into 1-inch thick wedges
1/4 cup vegetable oil or camelina oil
1 tablespoon grated fresh ginger
1 tablespoon maple sugar
salt and pepper
fresh thyme sprigs
Directions
Preheat oven to 400°F. Line baking sheet with foil. In large bowl, combine apples, squash, turnips, onion, oil, ginger and maple sugar. Season with salt and pepper. Spread apple mixture in single layer on prepared baking sheet; bake, stirring halfway through, until vegetables are tender and golden, about 45 minutes. Garnish with fresh thyme sprigs.
NUTRITIONAL FACTS
PER SERVING: about
Iron1 mg, Fibre4 g, Sodium150 mg, Sugars14 g, Protein2 g, Calories140, Total fat4 g, Cholesterol0 mg, Saturated fat1 g, Total carbohydrate24 g
Lifestyles Advisor is Health And Lifestyle Magazine. Our main Focus on to Ensure Healthy lifestyle for All Human Being.