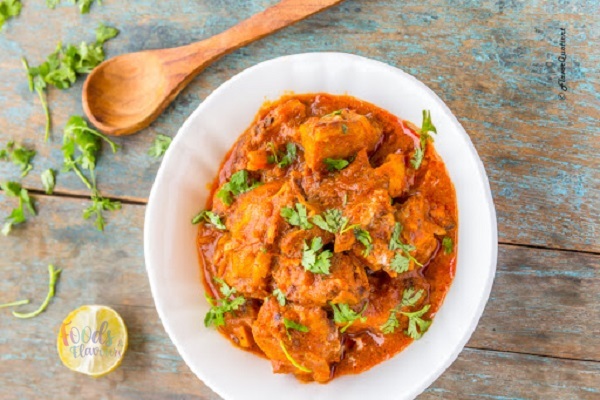 This Best Chicken Tikka Masala Recipe is so easy to make right at home. This is the Best Chicken Tikka Masala recipe ever! It tastes just like the restaurant.
Ingredients
2 tablespoons vegetable oil , divided
750 g boneless skinless chicken thighs , cut into bite-size pieces
salt and pepper
1 onion , chopped
2 cloves garlic , minced
1 tablespoon grated fresh ginger
1 1/2 teaspoon garam masala
1 1/2 teaspoon ground cumin
1 1/2 teaspoon turmeric
1 teaspoon ground coriander
1/2 teaspoon cinnamon
1/4 teaspoon cayenne pepper
1/2 cup sodium-reduced chicken broth
1/2 796 ml can crushed tomatoes
1/2 cup 2% plain Greek yogurt
1 teaspoon brown sugar
1/4 cup chopped cilantro + more for garnish
6 garlic naan or plain naan
Directions
In large deep skillet, heat half the oil over medium-high heat; cook chicken in 2 batches, turning once, until golden on each side, 4 to 5 minutes. Season with salt and pepper. Transfer to plate; set aside.
In same skillet, heat remaining oil over medium heat; cook onion, garlic and ginger, stirring, until onion is tender, 3 to 4 minutes. Return reserved chicken to skillet; sprinkle garam masala, cumin, turmeric, coriander, cinnamon and cayenne over top. Add broth, scraping up brown bits from bottom of pan with wooden spoon. Add tomatoes and bring to boil; reduce heat and simmer until chicken is cooked through, 15 to 20 minutes.
Stir in yogurt, sugar and chopped cilantro (if sauce is too thick, stir in a bit of water). Garnish with cilantro sprigs and serve with naan.
NUTRITIONAL FACTS
Per serving: about:
Calories245, Total fat10 g, saturated fat1 g, Cholesterol125 mg, Sodium500 mg, Total carbohydrate11 g, Fibre3 g, Sugars6 g, Protein28 g, Iron4 mg
Lifestyles Advisor is Health And Lifestyle Magazine. Our main Focus on to Ensure Healthy lifestyle for All Human Being.