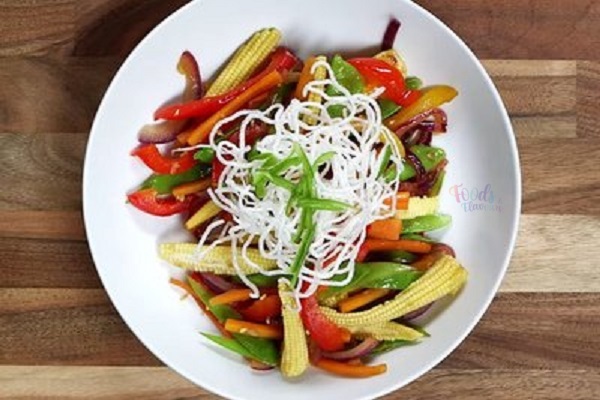 This healthy Stir Fried Vegetables with crispy noodles is a great midweek meal. This Stir Fried Vegetables with crispy noodles is an easy recipe that can be on the table in 20 minutes. This Stir Fried Vegetables absolutely delicious!
Ingredients
3/4 cups sodium-reduced vegetable broth
2 tablespoons hoisin sauce
1 tablespoon sodium-reduced soy sauce
2 teaspoons cornstarch
1 teaspoon sesame oil
1 tablespoon vegetable oil
2 cloves garlic , minced
1 tablespoon grated fresh ginger
1 398 ml can miniature corn , rinsed and drained, each halved crosswise
1 onion , cubed
1 cup broccoli florets
1 cup cauliflower florets
1/2 cup sliced shiitake mushrooms
1 carrot , julienned
1 sweet red pepper , cubed
Crispy Noodles (recipe, on right)
hot pepper flakes (optional)
Directions
In small bowl, whisk together broth, hoisin sauce, soy sauce, cornstarch and sesame oil Set aside.
In large skillet or wok, heat vegetable oil over medium-high heat; cook garlic and ginger, stirring, for 30 seconds.
Add corn, onion, broccoli, cauliflower, mushrooms, carrot and red pepper to skillet; cook, stirring, for 2 minutes. Mix in reserved sauce; cook until vegetables are tender-crisp, about 3 minutes. Place one portion of Crispy Noodles on each of 4 plates and spoon chop suey over top. Sprinkle hot pepper flakes over top (if using).
Crispy Noodles
In large pot of boiling salted water, cook 8 oz chow mein noodles according to package directions. Drain and rinse under cold running water; drain again. Divide noodles into 4 portions. In skillet, heat 1 tbsp vegetable oil; add 1 portion of noodles, forming loosely into a round. Cook, turning halfway through and pressing down with spatula, until crisp and golden, 3 to 4 minutes. Keep warm. Repeat with remaining portions, adding oil as needed. Makes 4 servings.
NUTRITIONAL FACTS
Per serving: about:
Calories445, Total fat22 g, Saturated fat5 g, Cholesterol0 mg, Sodium1,050 mg, Total carbohydrate51 g, Fibre9 g, Sugars7 g, Protein11 g, Iron5.5 mg
Lifestyles Advisor is Health And Lifestyle Magazine. Our main Focus on to Ensure Healthy lifestyle for All Human Being.