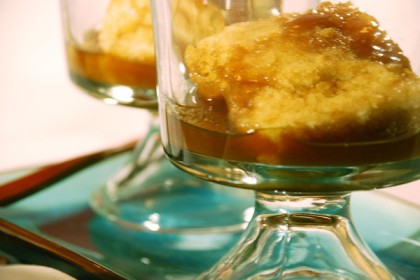 This French Canadian Pouding Chômeur calls for maple syrup to be poured onto the batter. It's the perfect dessert to pair with summer fruit or vanilla ice cream. This pouding chomeur is very tasty and isn't cheap to make .
Ingredients
For the Syrup:
2 cups maple syrup
2 cups heavy cream
For the Batter:
¾ cup unsalted butter, at room temperature
¾ cup white sugar
¼ teaspoon vanilla extract
2 eggs, at room temperature
1 teaspoon baking powder
½ teaspoon fine salt
1 ¾ cups all-purpose flour
Directions
Step 1
Preheat the oven to 425 degrees F (220 degrees C). Butter a deep baking dish and place it on a sheet pan.
Step 2
Bring maple syrup and heavy cream to a boil in a deep saucepan over medium-high heat. Turn off heat once mixture starts to bubble, stir, and set aside.
Step 3
Beat butter and sugar together in a bowl using a spatula or electric mixer until creamy and well combined. Whisk in vanilla extract and 1 egg until incorporated. Mix in the other egg. Sprinkle in baking powder, salt, and flour. Mix with a spatula until batter is just combined.
Step 4
Transfer batter to the prepared dish and pour the maple-cream sauce on top, stopping between 1/2 to 1- inch from the top of the dish. Reserve any extra sauce.
Step 5
Bake in the center of the preheated oven until pudding is golden brown and a toothpick inserted into the center comes out mostly clean, about 30 minutes. Let cool for 10 minutes; serve pudding with any extra maple-cream sauce.
Nutrition Facts
Per Serving:
602 calories; protein 4.5g; carbohydrates 75.5g; fat 32.6g; cholesterol 134.6mg; sodium 203.4mg. 
Lifestyles Advisor is Health And Lifestyle Magazine. Our main Focus on to Ensure Healthy lifestyle for All Human Being.