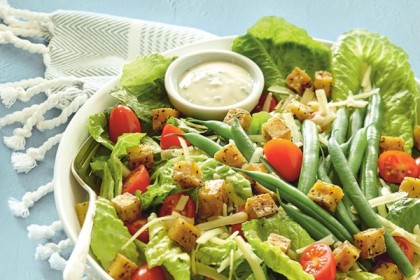 A tasty, vegetarian alternative to traditional Caesar! This Tofu Caesar salad with tofu vinaigrette is yummy tasty and healthy. Serve it as a side or enjoy it for a meal. Tofu Caesar salad is packed with full nutrient.
1 tablespoon olive oil
2 teaspoons Montreal Steak Spice
1/2 454 g pkg firm tofu , drained and cut into 1/2-inch cubes
8 cups shredded romaine lettuce
1 1/2 cup cherry tomatoes , halved
1/2 cup shredded smoked Cheddar cheese
1 lb green beans , blanched
Directions
Preheat oven to 350°F. In bowl, combine olive oil and steak spice; add tofu, mixing to coat well. Transfer in single layer to parchment paper-lined baking sheet; bake until golden brown and crispy, 25 to 30 minutes. Set aside.
Tofu Vinaigrette
Meanwhile, in blender, purée tofu, lemon juice, garlic, mustard, anchovy paste and oil until smooth (if too thick, add water, 1 tbsp at a time, to reach desired consistency). Stir in chives; season with pepper. (Make-ahead: Can be covered and refrigerated overnight.)
In large bowl, toss together lettuce, tomatoes and Cheddar; arrange beans on one side. Top with tofu croutons. Serve with vinaigrette.
NUTRITIONAL FACTS
PER SERVING (WITH SALAD): about
Calories340, Total fat23 g, saturated fat5 g, Cholesterol15 mg, Sodium650 mg, Total carbohydrate19 g, Fibre6 g, Protein14 g