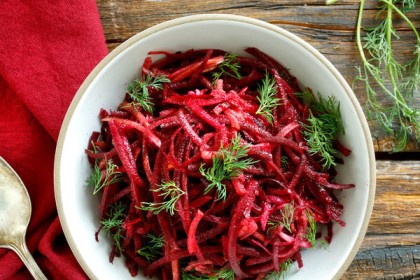 This Raw beet salad recipe is a beet recipe for someone who is skeptical of their earthy, rooty flavor. This raw beet salad recipe is so yummy and is so nutritious because the nutrition isn't cooked out of the beets. Uncooked beets are less sweet and earthy than they are when boiled or roasted.
Ingredients
1 pound beets, grated
2 tablespoons balsamic vinegar
1 tablespoon extra-virgin olive oil
1 tablespoon finely chopped fresh parsley
1 large clove garlic, minced
2 teaspoons Dijon mustard
¼ teaspoon sea salt
Directions:
Step 1
Combine beets, balsamic vinegar, olive oil, parsley, garlic, mustard, sea salt, and black pepper in a bowl.
Nutrition Facts
Per Serving:
89 calories; protein 2g; carbohydrates 13g; fat 3.6g; sodium 263.7mg.
Lifestyles Advisor is Health And Lifestyle Magazine. Our main Focus on to Ensure Healthy lifestyle for All Human Being.