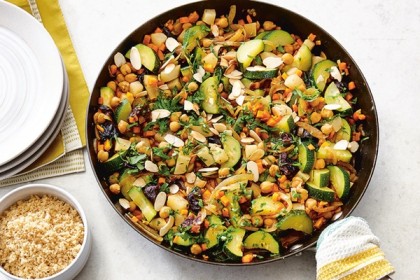 The making of a good Vegetable Tagine With Prunes is a state of mind, rather than a culinary art. Once you have grasped the basic principles of seasoning, balance and contrast, the opportunity is there to have fun creating your own. This Vegetable Tagine With Prunes is very and full of nutrient.
INGREDIENTS
1 tablespoon olive oil
1 onion , halved and thinly sliced
1 cloves garlic, minced
1 tablespoon ras el hanout
1 tablespoon tomato paste
1 teaspoon harissa paste (optional)
salt
3 cups sodium-reduced vegetable broth
4 carrots , diced
2 zucchinis , halved lengthwise and sliced in 1/2-inch thick pieces
2 small rutabaga , cut in 1/2-inch cubes
1 540 ml can chickpea , rinsed and drained
1/2 cup pitted prunes , halved
1/4 cup toasted sliced almonds
chopped fresh parsley
Directions
In large saucepan, heat oil over medium heat; cook onion and garlic for 3 minutes. Add ras el hanout, tomato paste, and harissa (if using); cook, stirring, for 2 minutes. Season with salt.
Using wooden spoon, stir in broth, carrots, zucchini, rutabagas, chickpeas and prunes, scraping any browned bits. Bring to boil. Reduce heat; cover and simmer until vegetables are tender, about 15 minutes. (Make-ahead: Can be stored in airtight container and refrigerated for up to 5 days or frozen for up to 3 months.) To serve, sprinkle with almonds and parsley.
NUTRITIONAL FACTS
PER SERVING: about
Calories233, Total fat6 g, saturated fat1 g, Cholesterol0 mg, Sodium333 mg, Total carbohydrate37 g, Fibre9 g, Sugars15 g, Protein8 g, Iron2.5 mg
Lifestyles Advisor is Health And Lifestyle Magazine. Our main Focus on to Ensure Healthy lifestyle for All Human Being.