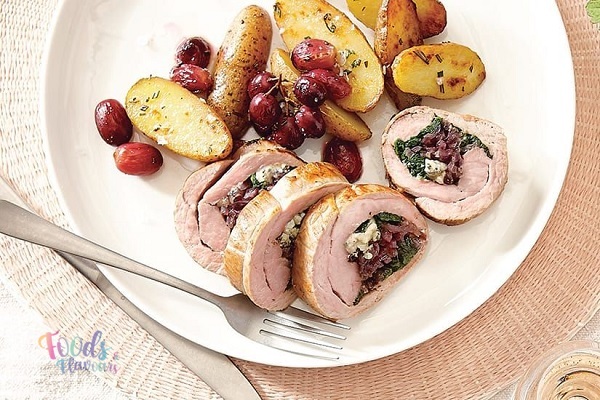 Caramelized onion and blue cheese stuffed pork tenderloin is a meal bursting with rich flavors that is perfect for a special occasion or holiday meal. These onion and blue cheese stuffed pork tenderloins absolutely delicious!
Ingredients
1 tablespoon unsalted butter
2 red onions , thinly sliced
salt and pepper
4 teaspoons maple syrup
2 teaspoons balsamic vinegar
4 teaspoons olive oil , divided
3 cups baby spinach , coarsely chopped
1/4 cup crumbled blue cheese
1 pork tenderloin (about 450 g)
Directions
In skillet, melt butter over medium-high heat; cook onions, stirring often, until golden brown, about 10 minutes. Season with salt and pepper. Reduce heat to medium. Stir in maple syrup and vinegar; cook, stirring occasionally, until onions are caramelized, about 10 minutes. Transfer to bowl; set aside.
Wipe skillet clean; heat 1 tsp of the olive oil over medium heat. Add spinach; cook, stirring occasionally, until wilted, about
2 minutes. Drain and set aside.
Arrange pork on cutting board with narrow end closest to you. Holding knife parallel to cutting board and starting at right side, cut in half horizontally almost but not all the way through. Spread open like a book; place between two layers of plastic wrap. Using mallet or cast-iron skillet, flatten evenly to 1⁄2-inch thickness. Remove plastic wrap. Sprinkle blue cheese, caramelized onions and reserved spinach down along centre of pork. Roll up pork; tie with kitchen string at 2-inch intervals. Season with salt and pepper.
Preheat oven to 350°F. In skillet, heat remaining olive oil over medium-high heat; cook pork, turning occasionally, until browned evenly on all sides, about 5 minutes. Transfer to baking dish; bake until still slightly pink inside, 20 to 25 minutes. Transfer to cutting board; tent with foil. Let stand for 5 minutes before slicing.
NUTRITIONAL FACTS
Per serving: about
Iron2 mg, Sodium950 mg, Sugars27 g, Protein26 g, Calories310, Total fat10 g, Cholesterol70 mg, Saturated fat2 g, Total carbohydrate29 g
Lifestyles Advisor is Health And Lifestyle Magazine. Our main Focus on to Ensure Healthy lifestyle for All Human Being.