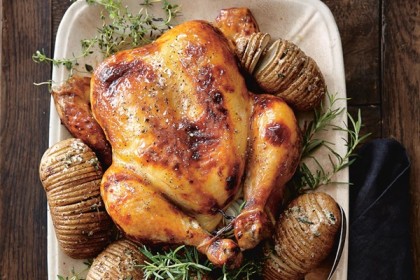 This Honey & Dijon-Glazed Roast chicken is a delicious and easy recipe which takes little time .Super simple and surprisingly quick, these flavorful Honey & Dijon-Glazed Roast chicken & Hassel back Potatoes will be on your plate in under 2.30 hour.
Ingredients
1/4 cup liquid honey
2 tablespoons Dijon mustard
1 tablespoon olive oil
1 whole chicken (1.5 to 2 kg)
salt and pepper
1 small onion , quartered
5 fresh thyme sprigs
1 fresh rosemary sprig
Hasselback Potatoes (recipe, this page):
NUTRITIONAL FACTS
PER SERVING: about
Iron2 mgSodium275 mgSugars18 gProtein38 gCalories360Total fat14 gCholesterol110 mgSaturated fat3 gTotal carbohydrate20 g
Directions
Preheat oven to 375°F. In small bowl, combine honey, mustard and olive oil. Set aside.
Sprinkle cavity of chicken with salt and pepper; place onion, thyme and rosemary in cavity. Tie bottom of chicken legs together with butcher's twine.
Place chicken breast side up on greased rack in roasting pan; fold wings underneath. Brush with reserved honey mixture; season with salt and pepper. Bake, basting every 30 minutes with cooking juices, until thermometer inserted into thickest part of thigh reads 185°F, about 1 hour and 10 minutes. Transfer chicken to plate; tent loosely with foil and let stand for 15 minutes. Remove and discard onion and herbs. Serve with cooking juices and Hasselback potatoes.
Hasselback Potatoes
Preheat oven to 375°F. In small bowl combine 2 tbsp softened salted butter, 2 minced cloves garlic, 2 tsp chopped fresh thyme and 1 tsp chopped fresh rosemary; set aside. Slice 6 baking potatoes at 1/8-inch intervals, leaving 1 centimetre at bottom unsliced so the potato is still intact. Place potatoes on parchment paper-lined baking sheet; top with reserved garlic butter. Season with salt and pepper. Bake until potatoes are tender and golden, about 50 minutes. Garnish with fresh rosemary and thyme sprigs. Makes 4 to 6 servings.
NUTRITIONAL FACTS
PER SERVING: about
Iron2 mg, Sodium275 mg, Sugars18 g, Protein38 g, Calories360, Total fat14 g, Cholesterol110 mg, Saturated fat3 g, Total carbohydrate20 g.
Lifestyles Advisor is Health And Lifestyle Magazine. Our main Focus on to Ensure Healthy lifestyle for All Human Being.