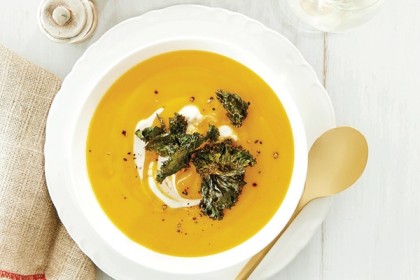 Roasted carrot & parsnip soup with whipped goat cheese & kale chips is a wonderful delicious spicy food item. Roasted carrot & parsnip soup is quick, easy and packed with nutrients. Roasting the root vegetables brings out their natural sweetness, resulting in a more flavorful soup.
Ingredients
Carrot & Parsnip Soup:
8 carrots , chopped
4 parsnips , peeledand chopped
4 shallots , halved
3 cloves garlic
1 tablespoon olive oil
1/2 teaspoon salt
1 900 ml pkg sodium-reduced chicken broth
Kale Chips:
6 cups torn stemmed kale
2 teaspoons olive oil
1/4 teaspoon sweet paprika
1 pinch salt
Whipped Goat Cheese:
130 g soft goat cheese (chèvre)
1/4 cup cream cheese , softened
1/2 cup whipping cream 35%
1 tablespoon lemon juice
1 pinch pepper
Directions
Carrot and Parsnip Soup
Preheat oven to 450°F. In roasting pan, toss together carrots, parsnips, shallots, garlic, oil and salt. Roast, stirring once, until softened and browned, about 1 hour.
Scrape into large heavy-bottomed saucepan. Stir in broth and 1 cup water; bring to boil. Reduce heat and simmer for 5 minutes. In blender or food processor, purée mixture in batches until smooth. (Make-ahead: Refrigerate in airtight container for up to 3 days; in saucepan, reheat over medium heat, about 10 minutes.)
Kale Chips
Meanwhile, preheat oven to 350°F. Line a baking sheet with parchment paper. In large bowl, toss together kale, oil, paprika and salt; arrange in single layer on prepared baking sheet. Bake until crisp and darkened, 12 to 15 minutes. (Make-ahead: Store in airtight container for up to 8 hours.) Serve over soup.
Whipped Goat Cheese
While kale is baking, in blender or food processor, whip together goat cheese, cream cheese, cream, lemon juice and pepper until smooth and light. (Make-ahead: Refrigerate in airtight container for up to 2 days.) Stir into soup.
NUTRITIONAL FACTS
Per serving: about:
Calories292, Total fat12 g, saturated fat6 g, Cholesterol29 mg, Sodium493 mg, Total carbohydrate42 g, Fibre9 g, Sugars13 g, Protein8 g.
Lifestyles Advisor is Health And Lifestyle Magazine. Our main Focus on to Ensure Healthy lifestyle for All Human Being.