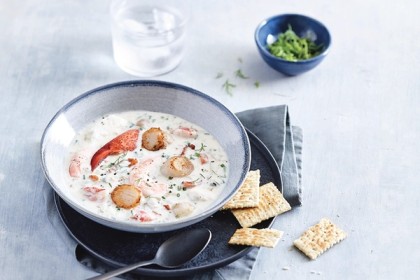 This tasty Seafood & Bacon chowder is super healthy, full of flavor, and ready in just 15 minutes! Seafood & Bacon chowder is so yummy and also nutritious food item.
Ingredients
1 tablespoon salted butter
1 small onion , finely chopped
1 celery stalk , finely chopped
1 cloves garlic , minced
1/4 cup all-purpose flour
1/2 cup dry white wine
250 g yellow-fleshed baby potatoes , quartered
250 g carrot , peeled and thinly sliced
1 236 ml bottle clam juice
6 slices smoked bacon , cut into strips
12 scallops
1 142 ml can clams with juice, separated
2 cups 18% cream
250 g halibut or cod fillets, cut into 2-inch pieces
175 g lobster meat , cooked and coarsely chopped
175 g shelled and deveined shrimp , cooked
salt and pepper
2 tablespoons each chopped fresh dill and chopped fresh chives
1 tablespoon lemon juice
6 lobsters claws, cooked and shelled (optional)
Directions
In large saucepan, melt butter over medium heat; cook onion, celery and garlic, stirring occasionally, until onion has softened, 2 to 3 minutes. Stir in flour; cook, stirring, for 1 minute. Pour in wine; cook for 2 minutes, scraping up browned bits.
Add potatoes, carrots, 1 1/2 cups water and all of the clam juice; season with salt and pepper. Bring to boil; reduce heat, cover and simmer for 15 to 20 minutes or until vegetables are tender.
Meanwhile, in skillet, cook bacon over medium heat, stirring regularly, until crisp, 6 to 8 minutes. Transfer to paper towel-lined plate. Reserving 1 tbsp fat, drain skillet. Cook scallops in reserved bacon fat until golden and opaque, 1 to 2 minutes on each side. Transfer to plate.
Add clams, three-quarters of the reserved bacon, cream, halibut, lobster and shrimp to soup; simmer until halibut is cooked through, 3 to 5 minutes. Season with salt and pepper. Stir in dill, chives and lemon juice.
Spoon chowder into bowls; top with scallops. Garnish each serving with lobster claw (if using). Sprinkle with remaining bacon.
NUTRITIONAL FACTS
Per serving: about:
Calories405, Total fat17 g, Saturated fat10 g, Cholesterol25 mg, Sodium895 mg, Total carbohydrate25 g, Fibre3 g, Sugars9 g, Protein38 g, Iron2 mg.
Lifestyles Advisor is Health And Lifestyle Magazine. Our main Focus on to Ensure Healthy lifestyle for All Human Being.