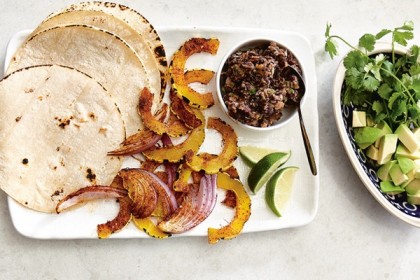 These Roasted Squash & Black bean Tacos are a great seasonal spin on your traditional taco. Squash & Black Bean Tacos are great for an easy weeknight dinner!
Ingredients
1 small delicata squash halved lenghtwise
1 red onion , quartered
4 teaspoons olive oil , divided
2 tablespoons Canadian fine maple sugar
3 teaspoons chili powder , divided
salt
1 clove garlic , minced
1/2 fresh jalapeno pepper , seeded and chopped
1 can black bean , drained and rinsed
8 corn tortillas
1 avocado , diced
chopped fresh cilantro
lime juice
Directions
Preheat oven to 425°F. Remove seeds from squash; slice crosswise into 1/4-inch thick pieces.
Place squash and onion on parchment paper-lined baking sheet; drizzle with 3 tsp of the oil. Sprinkle with maple sugar and 2 tsp chili powder. Season with salt; mix together. Arrange on prepared pan; bake, stirring once, until vegetables are tender and slightly caramelized, about 15 minutes.
Heat remaining oil in skillet set over medium heat; cook garlic and jalapeño, stirring, for 1 minute. Stir in beans, 3 tbsp water and remaining chili powder; cook, stirring often, for 4 minutes. Remove skillet from heat. Season mixture with salt. Using masher or back of spoon, coarsely mash beans.
Spread black bean mixture over tortillas. Top with squash, onion and avocado. Sprinkle with cilantro; drizzle with lime juice.
NUTRITIONAL FACTS
Per serving: about
Calories450, Total fat13 g, Cholesterol0 mg, Sodium300 mg, Total carbohydrate69 g, Protein14 g, Iron4 mg.
Lifestyles Advisor is Health And Lifestyle Magazine. Our main Focus on to Ensure Healthy lifestyle for All Human Being.