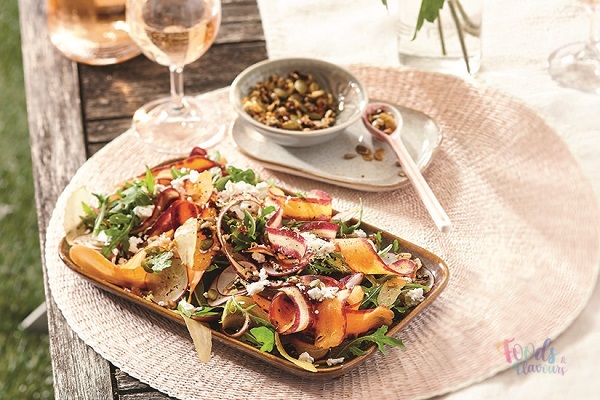 This Carrot salad with savoury granola food item is quick, easy, delicious and nutritious weeknight salad item.This Carrot salad with savoury granola is an easy recipe that can be on the table in 20 minutes.
Ingredients
3 tablespoons olive oil
1 teaspoon lemon zest
2 tablespoons lemon juice
salt and pepper
1 lb heirloom carrots (about 4 carrots), cut lengthwise in thin ribbons
4 radishes , thinly sliced
1 cup packed arugula
1/4 cup crumbled feta cheese
1/3 cup Savoury Granola (recipe, on right)
Directions
In large bowl, whisk together olive oil, lemon zest and juice. Season with salt and pepper. Add carrots, radishes and arugula; mix gently to coat. Sprinkle with feta and granola.
Savoury Granola
Preheat oven to 300°F. In large bowl, combine 1 cup rolled oats, 1⁄2 cup each sunflower seeds, pepitas and sesame seeds, 1⁄3 cup each finely chopped black olives and sundried tomatoes, 1⁄4 cup olive oil, 1 tbsp each Dijon mustard and maple syrup, 11⁄2 tsp coarse sea salt, 1 tsp dried thyme and 1⁄4 tsp cayenne pepper.
Spread mixture in single layer on parchment paper-lined baking sheet; bake in centre of oven, stirring halfway through, until granola is golden brown, about 45 minutes. Let cool completely. (Make-ahead: Granola will keep for up to 2 weeks in an airtight container at room temperature and up to 3 months in the freezer.) Makes about 3 cups.
NUTRITIONAL FACTS
Per serving: about
Iron2 mg, Fibre4 g, Sodium150 mg, Sugars2 g, Protein15 g, Calories175, Total fat9 g, Cholesterol0 mg, Saturated fat1 g, Total carbohydrate9 g
Lifestyles Advisor is Health And Lifestyle Magazine. Our main Focus on to Ensure Healthy lifestyle for All Human Being.