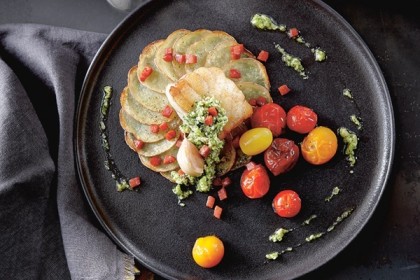 Roasted Monkfish with potato crisps is a wonderful delicious food item. which really works well with crisp Mediterranean flavours. Roasted Monkfish With Potato Crisps is so favorable, healthy and yummy food item.
Ingredients
1/4 cup salted butter
125 g chorizo sausages , diced
1 tablespoon Canadian maple butter
32 cherry tomatoes
4 small cloves garlic , unpeeled
3 sprigs fresh thyme
1 tablespoon olive oil
4 monkfish fillets or cod fillets (125 g each)
salt and pepper
Directions
In small saucepan, melt butter over very low heat; cook chorizo, stirring occasionally, for 15 minutes. Stir in maple butter. Remove pan from heat. Strain mixture, reserving butter and chorizo separately.
Preheat oven to 400°F. Line baking sheet with foil; grease foil and fold up edges. Place tomatoes, garlic and thyme on prepared baking sheet; drizzle with oil, stirring to coat well. Arrange mixture on one half of the baking sheet; bake for 5 minutes.
Meanwhile, season fish with salt and pepper. In large skillet, heat reserved chorizo butter over medium heat; cook fish for 1 minute on each side, basting with butter. Transfer fish to empty half of baking sheet; cook just until fish flakes and tomatoes begin to split, 5 to 7 minutes.
Serve fish with sprinkle of chorizo, roasted tomato mixture, Potato Crisps and Broccoli Pesto.
Potato Crisps Preheat oven to 400°F. Cut 2 yellow-fleshed potatoes (about 300 g) into 1/8-inch thick slices; divide into 4 portions. Line baking sheet with parchment paper. On parchment paper, draw four 5-inch diameter circles, about 1 inch apart. Flip paper over; arrange each portion of potatoes in a fan shape inside each circle. Brush potato slices with 2 tbsp oil; season with salt and pepper. Bake until potatoes are tender and golden brown, about 15 minutes (if needed, broil for few minutes). Makes 4 servings.
Broccoli Pesto In food processor, pulse 1 head of broccoli (cut into florets), 1 cup olive oil, 3 tbsp sunflower seeds, 3 tbsp Parmesan cheese, zest and juice of 1/2 lemon, and 1 tsp chopped garlic until puréed. Season with salt and pepper. (Make-ahead: Can be refrigerated for up to 3 days or frozen for up to 1 month.)
NUTRITIONAL FACTS
Per serving: about:
Calories365,Total fat23 g, Saturated fat10 g,Cholesterol10 mg,Sodium500 mg, Total carbohydrate11 g,Fibre2 g,Sugars8 g,Protein29 g,Iron1.5 m
Lifestyles Advisor is Health And Lifestyle Magazine. Our main Focus on to Ensure Healthy lifestyle for All Human Being.